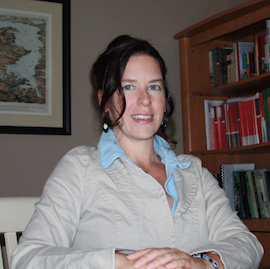 ---
Biography
B.A., Appalachian State University
M.A., West Virginia University
Ph.D., University of Rochester See More
---
Publications
Books

War and Recovery: The Crimean War (forthcoming, 2018 Oxford University Press)
Christianizing Crimea: Shaping Sacred Space in the Russian Empire and Beyond. DeKalb: Northern Illinois University Press, 2010.
Contributing co-editor with Lucien J. Frary, Russian-Ottoman Borderlands: the Eastern Question Reconsidered. Madison: Wisconsin University Press 2014.
Contributing co-editor with Philip L. Kohl and Nachman Ben-Yehuda, Selective Remembrances: Archaeology in the Construction, Commemoration, and Consecration of National Pasts. Chicago: University of Chicago Press, 2008.
See More
---
Courses
HY 102 Western Civilization II
HY 246 History of the USSR
HY 337 History of Eastern Europe
HY 338 History of Russia
HY 401/501 History of Holy War, from Early Times to the Present
HY 442 Undergraduate Research Seminar: History of War in Russia
HY 442 Undergraduate Research Seminar: History of Holy War
HY 451 States, Nations, and Nationalism (W)
HY 457/557 Stalin's Russia
HY 457/557 History of Eastern Christianity
HY 540 Modern European Historiography
HY 542 World Historiography
HY 590 Europe and Empire